October 18, 2001
Interview by: Sjouke Bakker

SHORT INTERVIEW WITH BILLY MILANO
After M.O.D. cancelled their North American Tour after 17 shows, I was curious about the plans Billy Milano had for M.O.D. and if there still would be a next record. So I send him an e-mail and asked him a few questions about M.O.D. and also about the new S.O.D.-DVD. Here's what he wrote back!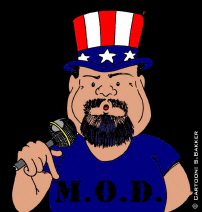 Sjouke: After a few years of silence, M.O.D. recently toured again in North America. Originally this was supposed to last 7 weeks. But after 17 shows the rest of the tour was cancelled. Can you tell the fans who didn't get to see you, why M.O.D. cancelled the tour?

BILLY: Honestly - I had gotten ill from the tour bus having no AC in Texas and Arizona- and when we drove, the piece of shit bus blew heat into the bunks. It was a bad bus problem that lasted 3 weeks longer than it should have. I just had had enough of being sick, and went home to Texas - packed up my whole house and went back to Hoboken.

Sjouke: From what I've heard from Sparky Voyles, I understand that he and Kevin(who played previously in Dying Fetus) are no longer part of M.O.D. Is that correct and does that also mean that the plans for a new record are postponed? Or are you and guitarplayer Joe Affe recording a new cd at this moment?

BILLY: Kevin and Sparky were people who were hired to play, that's it. Kevin was a pretty good drummer for what he does, but not my kind of drummer. Joe and I will be recording the new record in December.

Sjouke: Do you have some titles or subjects that definatly will be on the next M.O.D. record? Are all the songs written already, or are you still in the writing process? When will it be released?

BILLY: I don't want to give titles away, but the record will be called 'The rebel you love to hate'. It will be out May of next year.

Sjouke: Is the fact that you called the 'new' M.O.D. "Milano's On Drugs" in an interview I read, just a joke, or do you really want to call your band that? If so, why did you want to change the name of the band?

BILLY: It is called "Milano's on Drugs" and I changed it because I wanted to. It's funny.

Sjouke: Are there plans to tour again with M.O.D. in the near future?

BILLY: We are going to rebook the tour and finish up the markets we missed. I'm gonna tour as soon as the record comes out.

Sjouke: The S.O.D. video 'Live at Budokan' hasn't been available for a long time. Megaforce Records released last month the DVD 'Speak English Or Live'. It contains the complete show from 1992 and some other live stuff. In Europe it will not be available until November, so I haven't seen it yet. Do you think it was a good idea to release another S.O.D.-DVD? In what way is this DVD different from 'Kill Yourself - The Movie'?

BILLY: I think it was a great idea to release a second dvd. It's just another feather in my cap. It contains our first ever European show in Germany, at the 'With Full Force' show. It was the highlite of my musical carreer.

Sjouke: You played with S.O.D. at TOTT, the Chuck Billy benefit. How did that go and why didn't you perform with M.O.D. at this benefit show?

BILLY: The show was great. It was for a good cause, but people missed the point. That show was more about saying goodbye to that era of music than an actual benefit. M.O.D. was originally supposed to play but I realised that I just wanted to joke around and have fun. Besides, it wasn't the orginal line-up.

Sjouke: Is there anything you want to say to the S.O.D. and M.O.D. fans who will read this short interview?

BILLY: Yes: I'm tired and I want to start a family already, so go away.

Sjouke: Thank you for answering these questions!

---

Sjouke Bakker, October 2001