M.O.D. - 'METHOD OF DESTRUCTION'.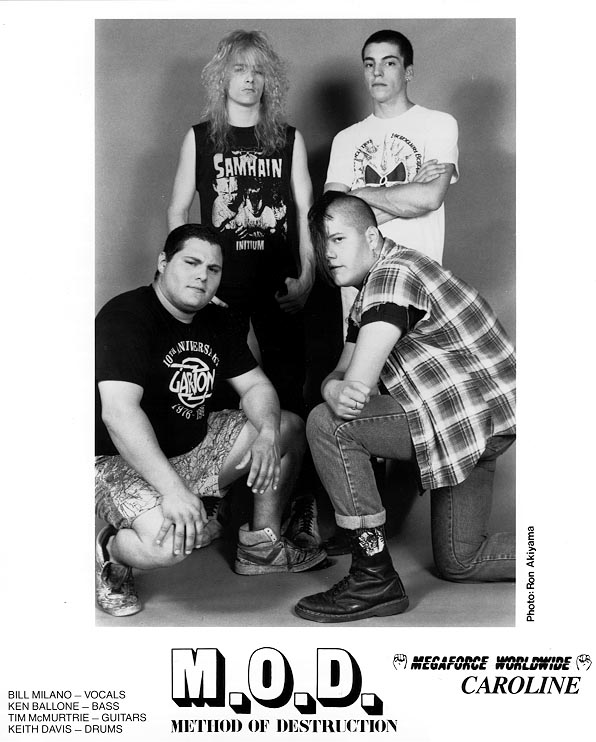 S.O.D. had Sargent 'D', M.O.D. had a similar character called 'Corporal Punishment'. Not everybody understood that most lyrics were written from the point of view of this character. Billy Milano explained that in an open letter to the press, October 15, 1987:
"...Instead of seeing the U.S.A. For M.O.D. project as full frontal assault against facism and hatred, much of the press have assaulted the artist instead." [...] "To start you must understand that we (M.O.D.) believe that to truly stir up negative emotions about racism, hatred, facism, etc. you cannot write a song from the third party situation. What would be stronger than taking on the identity, in the first person of a facist, racist bigot and writing lyrics as he sees the world? I created 'Corporal Punishment' as this character." [...] "Again, please realize these are not my opinions..."
(Open letter published in: Aardschok/Metal Hammer, december 1987).

On the first M.O.D. record 'U.S.A. for M.O.D.' were some songs that were originally meant for a second S.O.D. album. Scott Ian (guitar in S.O.D. and Anthrax) even played acoustic guitar on the song 'Ode to Harry' and contributed backing vocals. He also co-wrote many of the songs, which were originally meant for S.O.D., like the opening track 'Aren't You Hungry' and the last track 'Hate Tank'.
'Hate Tank' was supposed to be the revenge of Sargent 'D', where he - instead of fighting for justice - just kills everybody. Now it is Corporal Punishment who playes that part. The image of Corporal Punishment (drawn by Anthony Ferrara) appeared on the cover of the first M.O.D. album, as well as on 'Devolution', 'Loved By Thousands... Hated By Millions' and 'Dictated Aggression'.

After 'Dictated Aggression' Billy Milano recorded 'Bigger Than The Devil', a new S.O.D. album with Dan Lilker, Scott Ian and Charlie Benante. Bigger Than The Devil was released in 1999. The original S.O.D. version of 'Aren't You Hungry' from 1985 was recorded again for this album.

A few years later Billy Milano released another M.O.D. album. It didn't have much to do with the punk, hardcore and metal that we knew from previous M.O.D. albums, it was more a kind of 'parody-album', with lots of different musical styles on it. This M.O.D. record is called 'The Rebel You Love To Hate' and was released in 2003 by Nuclear Blast. In 2005 M.O.D. headlined the 'Killith Fair 2005' Tour.
In 2007 M.O.D. recorded and released another record with a new line-up: 'Red, White And Screwed', with Billy Milano on bass and vocals, Scott Sargeant on guitar and Derek 'Lennon' Lopez on drums. On this album Billy returned to his roots; old school hardcore and punk! M.O.D. at his best.

In July 2017 M.O.D. released their 10th studio-album 'Busted, Broke & American'. As to be expected, Busted, Broke & American is fast, it's furious, and it makes no apologies. It also mixes hardcore, punk rock, and thrash and the end result is a thoroughly combustible collection of songs.
"I had taken off time with M.O.D. in 2009," Milano recalls. "We had done 100 shows for [2007's] Red, White & Screwed. I needed a break. My dog Buster, an American bulldog, got sick with cancer and I started to play guitar again while staying home with him. I started jamming again, anticipating something quick, but it wasn't."
In 2013 and 2014 M.O.D. did a couple of tours and in 2014 M.O.D. returned to Europe for the first time in 20 years! In 2015 they started recording their new album, but they didn't finish it. Billy took a few months off and continued recording in the second half of 2015 and 2016.
Busted, Broke & American is raw and honest. It may also be M.O.D.'s final full length, according to Milano. But just like he wasn't thinking too far into the future while writing the album, he's focusing on the present and the music he has just made. All he really wants is the fans to hear the new album, which he dubs "simple, fast, furious, hardcore punk music." In fact, Milano is also proud of the fact that the album embodies a quote that Agnostic Front guitarist Vinnie Stigma has been saying since the '80s. "If you ain't hardcore punk, you ain't shit."

Busted, Broke, and American is hardcore punk and it is indeed the shit.