S.O.D. has always been a project, never a band. So, when Dan Lilker went back to Nuclear Assault, and Scott Ian & Charlie Benante to Anthrax, Billy Milano started his own band:
M.O.D. - 'METHOD OF DESTRUCTION'.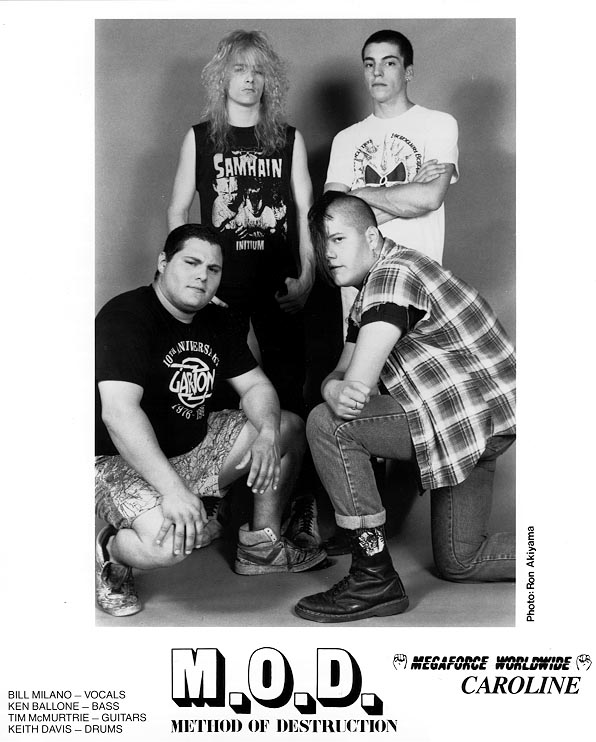 S.O.D. had Sargent 'D', M.O.D. had a similar character called 'Corporal Punishment'. Not everybody understood that most lyrics were written from the point of view of this character. Billy Milano explained that in an open letter to the press, October 15, 1987:
"...Instead of seeing the U.S.A. For M.O.D. project as full frontal assault against facism and hatred, much of the press have assaulted the artist instead." [...] "To start you must understand that we (M.O.D.) believe that to truly stir up negative emotions about racism, hatred, facism, etc. you cannot write a song from the third party situation. What would be stronger than taking on the identity, in the first person of a facist, racist bigot and writing lyrics as he sees the world? I created 'Corporal Punishment' as this character." [...] "Again, please realize these are not my opinions..."
(Open letter published in: Aardschok/Metal Hammer, december 1987).

On the first M.O.D. record were some songs that were originally meant for a second S.O.D. album. Scott Ian even played acoustic guitar on the song 'Ode to Harry' and contributed many backing vocals. He also co-wrote many of the songs, which were leftover from S.O.D., like the opening track 'Aren't You Hungry' and the last track 'Hate Tank'.
'Hate Tank' was supposed to be the revenge of Sargent 'D', where he - instead of fighting for justice - just kills everybody. Now it is Corporal Punishment who playes that part. The image of Corporal Punishment (drawn by Anthony Ferrara) appeared also on the cover of the first M.O.D. album, as well as on 'Devolution', 'Loved By Thousands... Hated By Millions' and 'Dictated Aggression'.

After 'Dictated Aggression' Billy recorded 'Bigger Than The Devil', a new S.O.D. album with Dan, Scott and Charlie. Bigger Than The Devil was released in 1999. The original version of 'Aren't You Hungry' from 1985 was recorded again for this album.

A few years later Billy Milano released a new M.O.D. album. It didn't have much to do with the M.O.D. that we knew, it was more a kind of 'parody-album', with lots of different musical styles on it. This M.O.D. record is called 'The Rebel You Love To Hate' and was released in 2003 by Nuclear Blast. In 2005 M.O.D. headlined the 'Killith Fair 2005' Tour.
In 2007 M.O.D. recorded and released their final record: 'Red, White And Screwed', with Billy Milano on bass and vocals, Scott Sargeant on guitar and Derek 'Lennon' Lopez on drums. On this album Billy finally returned to his roots; old school hardcore and punk! M.O.D. at his best.