This is not just the latest release from Billy Milano's M.O.D. (Method Of Destruction), it's the best release to date. The new effort was two years from conception to reality and soon to the ears of the music public. "For me it's a whole new ballgame, new members, new music and the beginning of a new era", states Milano. "The Rebel You Love To Hate" is more a representation of a new band with its first release than M.O.D. and its prior history. The simple fact that it's an M.O.D. record should not make music listeners think its a typical effort.

The concept of the record started during the reunion of the legendary S.O.D. (Stormtroopers Of Death), a band which Milano fronted that influenced a generation of metal listeners. After watching a VH1 special on Weird Al Yankovic at home, one night he realized that M.O.D.'s music could have a very cool approach to it if it was done in a very tongue and cheek way. This approach lays the ground work for a unique style, the meshing of Heavy Metal/Hard Rock-satirical political humor and iconic references presented in the rock forum. "The Rebel You Love To Hate" not only rocks fuckin' hard, it finally addresses the hypocritical stance that musicians, groups and musical scenes seems to embrace.

With songs like "Wigga", which makes light of the white suburban Urban wannabe Gangsta to "Rage Against The Mac Machine", a song which questions not only the integrity of the band ("Rage") but shoots down the credibility of the groups efforts by exposing the double standard that so many musicians take, but rarely understand. The Techno romp of "De Men Of Stein" pointing out the obvious neo-fascist fashion statement that techno seems to embrace and glorify.

From the Hardcore rocking title track to the studio live version of "Get Ready" this record is a fun time for the whole family and the feel good album of the year.

Look for the "Killith Fair" to come to your country, town or local scene sometime in the fall.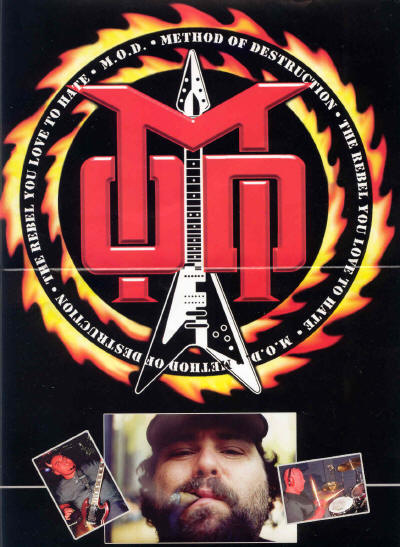 Release date U.S.: May 20th 2003
Release date Europe: June 2nd 2003
LYRICS ADDED - Click here