Scott Ian: Sgt. D. dies again
A few days ago Scott Ian posted a message on the official Anthrax website. It's a story about the death of Sgt. D. At first I didn't want to publish this story (we already knew that S.O.D. is over), but because it isn't on the Anthrax site anymore, I decided to publish it here for those who still want to read it. I guess this is his way to say goodbye to fans of S.O.D. Click below for his story:
Billy confirms: S.O.D. IS OVER

In an e-mail I send to Billy Milano, regarding to the message that Blabbermouth.net published, I asked: "Can you confirm this? Or do you wish to say anything about this? Did you speak with Dan and is S.O.D. over?" I also asked Billy if we could expect the new M.O.D. album sometime this year. Billy replied very soon. Here is what he wrote. Thanks Billy!

"Hey ,
Danny and I have just come to the conclusion that Scott is a bloodsucking scumbag that will never let anyone do anything without him getting paid.
So fuck SOD.
MOD will do something in winter as touring and record soon.
I have a solo project "the Jersey Rebel" and Danny Lilker and I will do a new band with new people along the same line as what we've done in the past."

Okay, I look forward to that!
Blabbermouth.net: S.O.D. IS OVER
According to Blabbermouth.net, Dan Lilker wrote the following message. They took it from the Anthrax Official Message Board:

"I spoke with Bill, and he is no longer going to attempt to put together any version of S.O.D. without all the original members, and since he and Charlie have both decided never to play with each other again due to all the recent shit-slinging, the band is over. This is not an Ozzy-esque trick—we're not gonna do a 'final' tour ('This is the last time you'll get a chance to see us ever, so make sure and go!'—that Sharon is a crafty bitch), if you never saw S.O.D. you never will. Sgt. D will be going to Valhalla with the rest of the dead warriors. Adios amigos, and thanks for all the support, it was greatly appreciated."

Source: Blabbermouth.net
20 Questions with Dan Lilker & another interview with Billy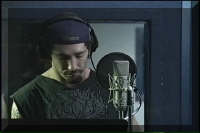 Again I added 2 interviews; DAN LILKER recently did 20 Questions with Metal Sludge (May 7, 2002). He also gave his opinion about Billy's 20 Questions when he was asked: "What are your thoughts on Billy Milano's 20 Questions he did with us and where do you stand in the Scott/Billy feud?"

Danny: "Billy put a lot of stuff aside in his life to do S.O.D. again, and was quite pissed when the touring fizzled out, which is why there is a "feud", as you put it, in the first place. He has a right to be pissed, and he expresses himself as only he can." Read the rest of this 20 Questions here at my website or at www.metal-sludge.com/20QuestionsLilker.htm .

The other interview is an old one with Billy. It is from the same month that 'Bigger Than The Devil' was released. But the content is still pretty actual. Read it here.

Sources: www.metal-sludge.com & www.metalupdate.com
New S.O.D. line-up published at Metal Sludge...
Metal Sludge published a great joke, a 'mysterious press release' about the new line-up of S.O.D.! Curious? Read all about this at: Metal Sludge S.O.D. Rumor. There is also a reply here. I do not know if that is made up as well, or if Billy really replied to this joke. Check it out yourself.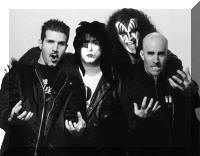 Billy Milano: Charlie Benante & Scott Ian Are Fired!
I just read the following message at Blabbermouth.net and Blistering.com:

S.O.D. frontman Billy Milano has issued a follow-up statement in response to the growing criticism over his decision to seek out replacements for guitarist Scott Ian and drummer Charlie Benante, both of whom are widely viewed as integral members of the group.

"First off, as far as [former Fear Factory drummer] Ray [Herrera] is concerned, he said to me at the Fear Factory show in Dallas last year that when I was ready to get a 'REAL' drummer in S.O.D. to call him and let him know," Milano said. "END QUOTE!!! TRUTH!!!!! Secondly, I will do what I want with S.O.D. Charlie and Scott are fired!!!!! They never gave a fuck about the S.O.D. fans anyway. So I am going to find two guys to do it from somewhere and [bassist Danny] Lilker will do it if he chooses to do it. But, this still is not going to help Charlene [a.k.a. Charlie] and Dimebag Ian [a.k.a. Scott]. They called Lilker to ask if we were gonna do S.O.D. without them, but didn't call Lilker to apologize for fucking him on the VH1 special. These guys know I am serious and the real deal. Maybe the next guy I hang out a window on the second floor will be you, Scott. For real."
To be continued...
Update: More interviews added!
The INTERVIEWS page has changed a bit. I have added a list of interviews by date. You can choose the one you want to read by clicking at the date. More interviews will follow soon.
Interview with Billy at Lunar Hypnosis Website
I just discovered a recent interview with Billy Milano at 'Lunar Hypnosis Website'. There is some news about the next M.O.D. record.

Billy: "It just is insane; it has keyboards on it, samples, tons of vocals. It is just a new thing for me all around. Most importantly it isn't Method Of Destruction. I won't be playing any of the old songs anymore. As far as musically, I may play some guitar or bass live, but it will be presented as more of a show."

Go to: the Lunar Hypnosis Website or click here for the complete interview.

SOD, MOD - Interview with lead singer Billy Milano. March 20, 2002. Interviewed by Mayhem Fetus
Former Fear Factory Duo Approached To Join S.O.D.
Former Fear Factory guitarist Dino Cazares and drummer Raymond Herrera have been contacted by S.O.D. frontman Billy Milano about the possibility of replacing Scott Ian and Charlie Benante (both of Anthrax, respectively, in the current S.O.D. line-up, Herrera has revealed to Blabbermouth.net. Although initial discussions between Milano and the ex-Fear Factory pair had taken place, Billy's requirement that the duo commit to the group on a full-time basis was met with resistance from Cazares and Herrera, both of whom are in the process of launching new projects that will take up the bulk of their time during the coming months.

Although there has been no official word from either side, it is believed that Milano's efforts to replace Ian and Benante in S.O.D. stem from the highly-publicized disagreements between the parties over Billy and former Anthrax/current S.O.D. bassist Danny Lilker's exclusion from the recently-aired VH1 Behind The Music special on Anthrax, which Ian had publicly admitted minimized Lilker's contributions to the group.

Update:

S.O.D. frontman Billy Milano has confirmed to Blabbermouth.net that he has spoken to former Fear Factory guitarist Dino Cazares and drummer Raymond Herrera about the possibility of the duo replacing Scott Ian and Charlie Benante (both of Anthrax), respectively, in the current S.O.D. line-up.

"I approached Ray and Dino four weeks ago [about joining S.O.D.]," Milano said in a written statement. "They both have their own things going on at the moment so Danny and I wish them well. I have nothing but respect for their abilities as musicians. They are also cool people. It would have been interesting to see where it could have gone. Peace, Milano."

Source: www.blistering.com
Mark Brand from Germany has a lot of special S.O.D. items. He noticed that I didn't have scans of the 'Whatever Happened To New Jersey'-bootleg from 1985. He just send me scans of that record. You can find them here. If there are other fans who have special items that are not on this website yet, feel free to send scanned images and the tracklist to me. I will publish it! Thanks Mark!

Whatever Happened To New Jersey (front)
Municipal Waste / Crucial Unit - Review
Tony Guardrial plays in a thrash band from Richmond Virginia called MUNICIPAL WASTE. They recorded a split cd with Crucial Unit. According to Tony, Municipal Waste is influenced by bands like S.O.D., Cryptic Slaughter, D.R.I. and Nuclear Assault. They'd like to have Billy Milano to sing guest vocals with them on their full length cd.
Tony has send me a copy of their split cd. The first band on this cd is Crucial Unit. They sound a little like Extreme Noise Terror and the 'old' Napalm Death. They play 9 songs. The next 10 tracks are by Municipal Waste. Municipal Waste reminds me mostly of Cryptic Slaughter and D.R.I, but I hear also influences of Pitboss 2000. The voice of their singer sounds like John Connelly (Nuclear Assault), but it's less melodic.
Municipal Waste is going on a full U.S. tour this summer. If you want to know more, please contact Tony at: tonyguardrail@hotmail.com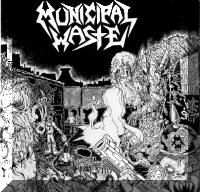 For more news about S.O.D. & M.O.D. click below: