Dawson:
"Hey, that would be killer. Never done that before! Yeah, send me some questions that you think would be appropriate and I'll write a short paragraph about who I am and where I came from. Then, depending on which is more appropriate, you can post it."
I just received the story that Dawson wrote. He tells a lot of interesting stuff in his short autobiography. In the near future I will also do an interview with him, but first you can read a short snippet about Dawson, written by himself.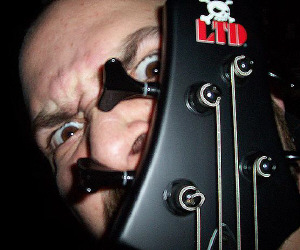 Dawson: "I've been involved with music since I was 6 years old. I started taking piano lessons and my only goal was to learn how to play "Axel F"...the theme from Beverly Hills Cop. Dude, that song rules. Anyhow, I was taking lessons up until I was hit by a pickup truck. I spent 9 weeks in a variety of casts. During that time, I went from the little annoying fat kid who could play the theme from M.A.S.H. on the piano, to the little annoying fat kid with crutches who smelled like medicine and shit all the time.

I started playing guitar after seeing Metallica on Headbanger's Ball for the first time. I turned into this huge Metallica geek, listening to nothing but Metallica. Man, I wished I hadn't because they totally fucked me when Load came out. From there, I started listening to everything I could get my hands on. There's a lot of bands I never got around to listening to. Although I probably listen to bands you've never heard of.

I've had a couple bands where we wrote and played songs in clubs for over 2 years. Offset Proof, which was my very first "real" band and Eli, which was a cover band where I played the drums. Everything else I've done since then was short-lived and didn't have momentum. That or it was all me on my computer.

When the opportunity to audition for M.O.D., playing bass was something I knew that I could do. Granted, I never played bass as an instrument in a band, just diddled with them when I had them. Also, I didn't really know any of the M.O.D./S.O.D. stuff. So when the opportunity came, I had to learn their songs as a listener and as a player. I didn't have too much time, either. I think I only had 4 or 5 days to learn the S.O.D. songs they wanted me to play. I have to thank Tim Norfolk, again, for really pressing me to give this band a shot.

I didn't think I'd get the gig at first. I'm not a bass player, I didn't know their music, and I was Mexican. When we jammed though, it was pretty awesome. I was totally impressed with Lennon's drumming. - I can't wait for you to hear him on the new album -. Everybody was real cool, too. No real attitudes.

So now that we are planning on touring together, I've begun testing my comedic waters to see where everyone's sense of humor ends, haha. I knew that signing on with these guys that I had to have thick skin and a good dose of wit. I love being the asshole. Really though, I'm the nicest guy you'll meet - once you get past all the bullshit. Oh yeah, I'm also wordy."
Thank you for this great update!
Soon you'll read even more about Dawson, when I've done my interview with him. I will also shortly have an interview with Anthony Ferrarra about the art he created for M.O.D. in the past, his band the Functional Idiots and other topics!!!