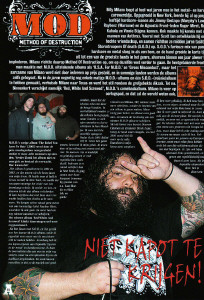 Reviews
There are some reviews available already on the internet, so you can read what others write about the new album. I've added some of the reviews I found for 'Red, White and Screwed' on my website. I'll be adding more reviews soon.
Click here for reviews...
Lyrics
I also added the lyrics of all songs on 'Red, White and Screwed' on my site. They can also be found on billymilano.com. Click here for lyrics of all of the songs.
New shows
M.O.D. will do some shows in October to promote the new record, including a CD-release party in Headhunter's. For all dates, click here.
Promo
I already mentioned the promo that I received last week. For more details and pics of the promo, click here.
Aardschok
There's an interview in this month's Aardschok (Dutch Metal and Hardrock magazine) with Billy Milano. It's (of course) in Dutch. Click on the picture at the right for a PDF-file of that interview.