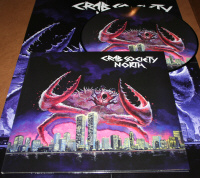 After 2 years in the making, F.O.A.D. Records has just released the legendary S.O.D. "Crab Society Demos 1985″ (FOAD 025). A complete reissue of the band's seminal demotapes (remastered from the best sources existing), available for the first time ever on vinyl as a deluxe Picture LP and limited edition die-hard boxset. Featuring the terrific 63-track 'Crab Society North' tape with embryonic versions of S.O.D. and M.O.D. anthems like 'Jim Gordon', 'Vitality', 'Diamonds and Rust', 'Bubble Butt', and a never before heard 52-track, pre-S.O.D. session featuring Dan Lilker (S.O.D., Anthrax, Nuclear Assault, Brutal Truth) and Craig Setari (NYC Mayhem, Straight Ahead, Sick Of It All, Agnostic Front).

Two versions
I ordered both versions 2 weeks ago and got them just before X-mas.
They're awesome! Not because of the music, but because of their historical value they're real collectors items! Both versions contain the same picture-disc in a gatefold sleeve, but the sleeve of the limited version is open on the left side and contains also an S.O.D. rehearsal on yellow vinyl. The limited box contains a backpatch, which is not in the regular version. Both versions come with a large poster. I've added more info and pictures here. Here's what you'll get if you order one of these items:

The REGULAR EDITION contains:
A Picture Vinyl LP Housed in High Glossy Gatefold Cover and a two sided full color poster with ultrarare 80's zine excerpts and artwork by Andrei Bouzikov (Municipal Waste, Cannabis Corpse, Cripple Bastards amongst others).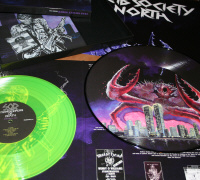 The DIE-HARD COLLECTORS' EDITION contains:
Ultra limited die hard boxset (only 150 copies) including: S.O.D. "Crab Society demos" Picture LP in gatefold sleeve with 2 sided poster, extra 10" in highlighter yellow vinyl and a full-color backpatch in the old school Thrasher way! All this housed in a superthick collectors' boxset with full coloured print on both sides. The extra 10" includes the remastering of a rare 1985 rehearsal with all the classic hits you want to hear by such a release, and a pre-S.O.D. recording of a Discharge cover!
You can order these releases here:
www.foadrecords.it